Accomplishments
On May 26, 1993, John Berens, director of the Olson Library, sent a memorandum to the department heads announcing her retirement.  He stated:
"Ms. Henderson has served Olson Library and the University with distinction since 1971. This year librarians have taught 269 classes reaching 6,751 students.  The strength of this program is a tribute to Professor Henderson's vision and leadership as program coordinator.  She will be sorely missed."
Roberta Henderson's long list of accomplishments while serving Northern Michigan University support John Beren's statements.  Throughout her career at NMU, Roberta sought out many opportunities for professional development.  During the 1982-1983 academic year alone, Roberta attended four library conferences across the Upper Peninsula and Canada.  That same year, Roberta hosted two sessions on "Young Adult Literature" at the Eastern Upper Peninsula Professional Day at Sault Area High School, a workshop called "Your Library- What's in it for You" at a survival skills workshop at NMU.  She also presented information on the Olson Library's ERIC (Educational Resources Information Services) materials and their importance to teachers and administrators at Marquette, Michigan workshop on rural and small schools.  During the 1989-1990 academic year, Roberta attended the Library Orientation Exchange (LOEX) National Library Instruction Conference, "Judging the Validity of Information Sources: Teaching Critical Analysis in Bibliographic Instruction," which helped bolster critical thinking skills with librarians and course instructors.  1991, Roberta Henderson helped present a program called "What College Students Need to Know about Library Research Skills" at a Regional Education Media Center meeting in Houghton, Michigan and a similar program at the fall U.P. Reading Conference.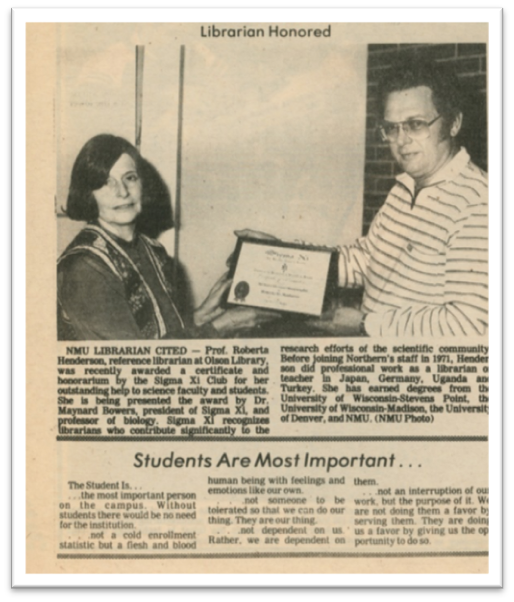 As the liaison librarian for the departments of Nursing and Allied Health, Medical Technology, Communication disorders, and Biology, Roberta provided assistance in academic planning and faculty research.  In July, 1988, she taught LS 498 B, a special topics course called Searching for Health/ Biomedical Information .  In 1983, Roberta received a certificate and honorarium from Dr. Maynard Bowers, president of the Sigma Xi Club and professor of biology for her help to the science faculty and students.
Roberta wrote several successful grants to further library instruction in the academic community.  These grants were used to better acquaint faculty with new library resources and services and with better methods for joining with librarians in developing techniques for integrating library materials into course work.  In 1986, Roberta received a Curriculum Development and Instructional Improvement Grant and an Employee Development Grant, totaling $2018.90 and $1300.  In 1987, she received a Special Purpose Grant for $1450.  These grants were integral components to the success of the library instruction workshops.  According to the Director of Human Resources and Data Information Services, the library instruction workshops had reached twenty percent of the NMU faculty by 1988.
Roberta actively served on several committees including the Student Judicial Committee and the Handicapped Advisory Committee.  She was also the Library Representative to the School of Education Advisory Council.  Roberta worked closely with Minority Student Services to help expand the library program to international students during the 1986-1987 academic year.  She successfully reached out to international students and introduced them to the Lydia Olson Library.  In the Fall of 1990, Roberta helped to create a library orientation event to welcome international students.  This was highly successful, resulting in around seventy attendants, including Student Supportive Services staff, International Education Policy Committee members, as well as new and returning international students.