Overcoming Challenge & Change
1982-1993
The early 1980s were challenging times for Northern Michigan University and the Olson Library.  By 1982, the University was in the midst of a serious financial crisis.  That same year, Governor William Milliken proposed cutting Northern's budget by $4,982,318, in spite of the $5.5 million in reduced expenditures made in the previous 33 months.  On April 1, 1982, Michigan's financial deficit of $500 million and the proposed reduction to higher education allocations led to the Board of Control's decision to declare financial exigency.  President Jamrich responded by identifying "reductions in the instructional budget and the number of faculty who might be terminated."  Library statistics from this period indicated that the Library's student-staff member ratio (not including student staff) was the highest among Michigan Universities.  The average was 254 students per staff member, and Northern's was 397 students per staff member.
In addition to financial difficulties, new administrative staff brought change.  In 1981, Helvi Walkonen, previous head of the library, left Northern.  Until Rena Fowler assumed the position as library head in 1983, John Drabenstott and Jane Swafford temporarily filled this position.  In 1983, James B. Appleberry replaced John X. Jamrich as President of NMU.  From 1980-83, Northern reduced its budget by $3.5 million and laid off 140 people.
In 1984, NMU cut the Library Sciences minor due to declining enrollments.  This shifted Roberta's educational focus to library instruction for students and faculty of all departments.  Roberta adapted quickly and found success in various instructional workshops for students and faculty alike.  In 1986, Roberta brought Evan Farber, a renowned expert in library instruction, to help guide a curriculum development workshop.  The success of this workshop is evidenced by the remarks of some of the participating staff members.
"Upon completion of the workshop, "Library Instruction Within the Curriculum," I find that I am integrating the use of the library in every class. I am already implementing the lesson plan that I've created and find that students are readily expressing the value of such an assignment. The assignment itself constitutes 20% of the student's grade. I believe that this percentage indicates to the students the importance and value that is place upon the assignment. In addition, students soon realize that for successful completion of the assignment they need to actively participate and interact with the reference librarians. I also find that I need to teach vocabulary words that have now taken on new meanings within the context of the library. As a result, I have created an additional lesson to be included within my original plan."

Dr. Valerie Helgren-Lempesis, November 14, 1986.
When asked if he would utilize experience with the workshop and the library assignment in other courses, George R. Gross, professor of sociology, responded,
"Yes, definitely!  I plan to require a library assignment early in the semester in SO 412 (Sociology of Education) and SO 473 (Juvenile Delinquency), in addition to SO 472."  
The late professor Emil Vadja stated,
"In terms of getting Freshmen to go to the library and use reference materials, the effort has been a huge success.  In terms of supporting a sister department (English) by getting Freshmen students to practice writing, the effort has been successfully, and I suspect, unique for classes this size.  In terms of getting students familiarized with the diverse fields and geographical scope of sociology through professional journals and abstracts, the effort was very successful."
"This semester I have noticed improvements in the oral reports and this may be a ripple down effect from the brochure printed for History of Costume by the by the library staff, class period in the media center, individual assistance given by librarians and the feeling of librarians and faculty working toward a common goal."
Joan Mattson, home economics, November 12, 1986.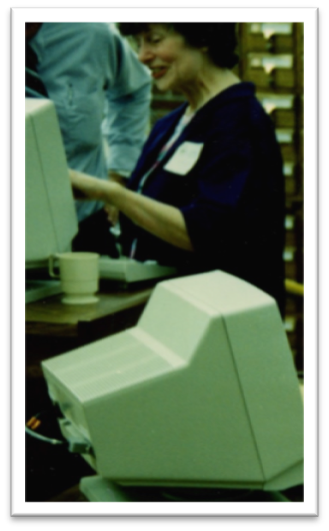 In the Library Instruction Annual Report for the 1986-1987 school year, Roberta stated "this year we reached over 4,300 students (about 60% of the student body) with some form of library instruction related to academic assignments."  In the same report, she also stated "Librarians and Mr. Farber, the consultant, had particularly good feelings about this workshop; faculty were really interested in their teaching, in becoming better teachers, and in making their classes and assignments more effective."
The transition into the computer age meant radical change for the reference librarians.  Roberta met this change head on and actively adapted library instruction to meet the newfound needs of students.  By 1988, Roberta incorporated CD-ROM technology into course-related library instruction.  That same year, she hosted one technology seminar for the faculty and two seminars held for the biology and business departments to increase awareness to technological changes in research methods.  These seminars helped to promote communication regarding other library materials and services, and created opportunities for graduate students to better discuss their research activities and needs.
When NMU obtained a computer for classroom use, Roberta helped implement new teaching methods for introducing new students to the library and their course related assignments.  In 1992 she helped run workshops for both students and staff on the library's new online catalog called CRISTAL.  That same year, Roberta and Computer Resources Librarian Michael Strahan also taught a one-week workshop called Introduction to Electronic Libraries after realizing the many questions public school teachers and librarians had with technological change in libraries.  
Being a reference librarian means addressing the academic needs of those who rely on the library for information.  In the 1983-1984 academic school year alone, Roberta handled 14,332 reference questions.  The following is a sample of questions Roberta encountered from the winter semester of 1987 to the winter semester of 1988:  

I need to know all the names of the cotton manufacturers in the southern states.
I have a photo from the late 1800s or early 1900s.  It has Mon., Jan 13th written on the back.  Can you tell me what year this would be?
What are the skull dimensions of the Red Fox?
Where's a picture of Andy Warhol (a big one)?
Have Upper Michigan and Lower Michigan ever been in different time zones?
What's another title for Brahms' Lullaby?  Would you sing it to me?  (Phone request)
Why is there more land mass in the northern hemisphere than in the southern?
I need to show my friends what the "West" looks like.  Do you have any pictures?
Where can I get material on Pink Floyd and Meat Loaf?
Is it possible to make acid rain for a science project?
How do I go about building a tree house?